Tailmate GELCORE Cushion
$60.00
PORTABLE DESIGN: In the Woods or at the Stadium, take Hunt Comfort Anywhere you Need Premium Seating Comfort
STEALTH FABRIC: Always Stay Silent and Dry in the Woods with the Soft and Durable High Count Fabric Featured only on Hunt Comfort
GELCORE: Experience a New Level of Comfort and Relieve the Fatigue of Sitting with Hunt Comfort's Exclusive GelCore Technology
FRAMED SUPPORT: Hunt Comfort Features an Enhanced Framed Edge Support to Help Increase Stability and Reduce the Risk of Roll Offs
TEMPERATURE CONTROLLED: Breathable, Open Grid Design with Temperature Controlled Materials Providing Maximum Air Ventilation
SUPERIOR MEMORY FOAM: Hunt Comfort is the Only Hunting Seat that Contours to Your Body Providing Ultimate Support and Comfort
NON-SLIP BACK: Tough Rubber Coated Backing Keeps Hunt Comfort in Place and You Ready for the Shot!
MODEL NO: HCSC75G
FEATURES
FATBOY GELCORE PREMIUM SEAT
Hunt Comfort's FatBoy™ is the best hunting cushion ever built. Our formula is built to reduce and gently distribute your seated pressure. FatBoy™ helps eliminate the annoying pain and nerve compression that comes from sitting still so you can enjoy your precious hunting time and forget about hurting. FatBoy™ is hand sewn with 338 Cloth Fabric outdoor seating fabrics developed by Hunt Comfort™. We are the only hunting comfort to address comfort factors of seating backed by patented and proven technology. As a result, our goods outperform and outlast all others. Available in Realtree Xtra licensed Camo.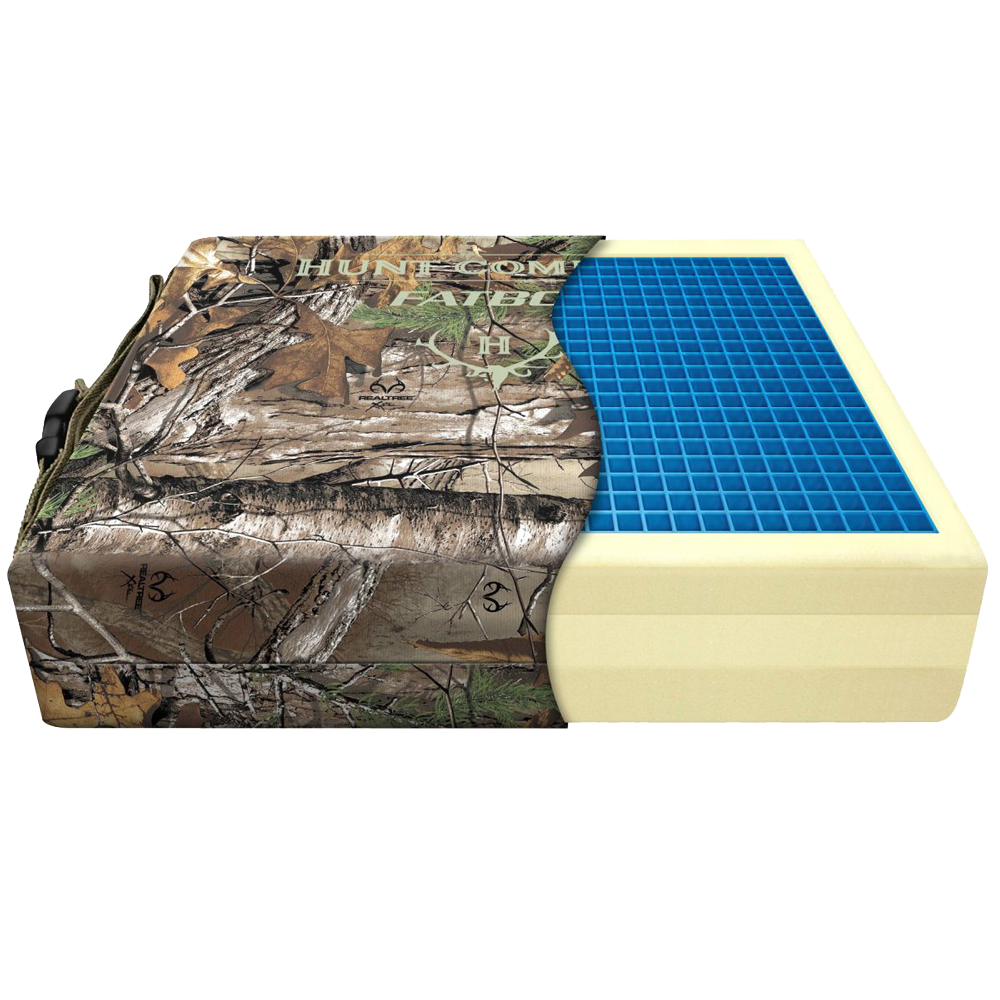 ULTRA PREMIUM HUNTING SEAT
As you wait for that one definable moment, any distraction is an unwelcome companion. You're in it for the long haul. That's why for the past 2 decades, we've gone through great lengths to engineer the most comfortable seats you'll find anywhere. From our innovative silent fabric to our cutting-edge GelCore™ technology, we invite you to discover for yourself, "The Best Seat in the Woods."®
SPECS
Triple density foam system
GelCore memory technology
Temperature controlled – it will not freeze or melt in extreme temperatures.
Hand sewn with our waterproof and noise reductive ComforTex Fabric
Utility strap with side release buckle
READY TO BUY?
Start your Shadow Hunter Experience